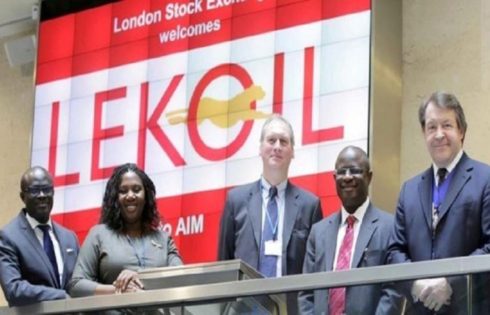 Hopes of producing Ogo field in OPL 310 block offshore Nigeria have diminished as Lekoil failed to secure loan from Qatar Investment Authority (QIA) earlier announced by the company.
This is sequel to the suspension of shares in London-listed oil producer Lekoil on Monday after Qatar's sovereign wealth fund questioned the validity of a $184m loan agreement the Nigeria-focused energy company had announced earlier this month.
The Aim-listed group said in a statement that it had paid $600,000 to Seawave Invest Limited, which introduced the company to people purporting to be from QIA.
Shares in Lekoil doubled to trade at 9.4p per share last week after the loan agreement to fund appraisal drilling at the Ogo field in Nigeria was signed near the beginning of the year, but people familiar with the QIA told the FT on Monday they had no knowledge of the loan.
Lekoil said in a statement that it is urgently seeking to establish "the full facts of this matter," adding that no money has been paid to the QIA.
Seawave Invest says on its website that it is "an independent consultancy firm specialising in cross-border transactions with an exclusive focus on Africa". The website includes no names of company staff and lists addresses in both Ghana and Bahamas.
A representative for Seawave hung up when contacted by the Financial Times.
It is not the first time that London's AIM market has encountered problems with Nigerian oil and gas producers. Executives at Afren, which was a partner in the Ogo field and formerly belonged to the FTSE 250, were found guilty of fraud and money-laundering in 2018 in London.
Lekoil currently holds a 40 per cent economic interest in Ogo, but is seeking to sell the 23 per cent interest which was acquired through a purchase of Afren's shares to a potential funding partner. Optimum, the operator and local partner, holds the remaining 60 per cent.
In the first half of 2019 the company produced 2,329 barrels of oil per day at Otakikpo in Nigeria, and it estimates that it could recover 232m barrels of oil from Ogo.
Mirabaud and Numis act as joint brokers for Lekoil, while Strand Hanson is its nominated adviser. Both brokers declined to comment.
Commission payable to Seawave for arranging the facility and the upfront payable fee to the Qatari sovereign wealth fund totalled almost $10m, Lekoil had previously said.
The alleged deal had an annual interest rate payable of 3.72 per cent to the QIA, it said. By comparison, Seplat Petroleum, another Nigeria focused Aim-listed company, pays over 5 per cent of interest on a current revolving loan agreement.
With additional reports from FT.