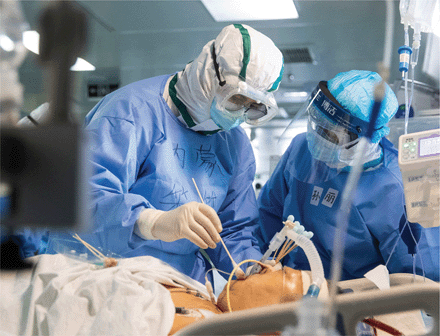 An eye-opening study conducted by Chinese and American researchers reveals that people who get COVID-19 may not develop antibodies that could offer them immunity in the future.
"People are unlikely to produce long-lasting protective antibodies against the virus," the researchers concluded after examining 23,000 blood samples from hospital workers in Wuhan, China, where the pandemic originated.
According to the South China Morning Post, the scientists said that at least 25% of the workers could have been infected at some point during the pandemic, but only 4% developed antibodies. This information dashes hopes that people who recover from COVID-19 could be issued "immune certificates," which would allow them to work and travel freely.
Antibodies stop infections by binding to the spikes on the virus, preventing it from invading the cells. Some antibodies remain in the system for as long as 12 years after infection, said experts. But the new research presented by Wang Xinhuan from Wuhan University's Zhongnan Hospital and scientists from the University of Texas in Galveston showed that more than 10% of the people in their study lost antibody protection within a month, according to the Post.
"The idea of an immune certificate for recovered COVID-19 patients is invalid," Wang wrote.
The study backs up statements made by the World Health Organization emphasizing that the belief a one-time infection of the coronavirus can lead to immunity remains unproven, according to NPR.
"There is currently no evidence that people who have recovered from COVID-19 and have antibodies are protected from a second infection," WHO said in a scientific brief in April.
-NewsmaxHealth