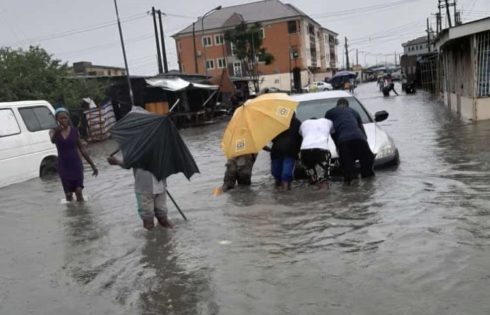 Gbenga Adedayo
Residents of Lekki, Victoria Island and parts of Ikoyi could not go out from their homes on Saturday, October 12, following heavy rainfall which started at about 3.00 am.
The torrential rainfall which is yet to recede as at 2.30 pm when this report was being filed, has left many homes flooded and drainages blocked.  Areas mostly hit are Lekki, Victoria Island, Ajah, and all the way to Ibeju-Lekki.
People were trapped indoors, and were unable to come out for routine business activities.  In some homes, water penetrated their houses, destroying household furniture and appliances.
When Media Issues visited some of the affected areas, some of the residents were seen removing their belongings from their homes and using buckets to drain water from their sitting rooms.
One of the residents Media Issues spoke to at Lekki, Tosin Dudusola, said, "see what the rain has done to us.  Government should come to our rescue."
Those without food at home could not go out, and even if they could, traders could not display their wares at the market.
If the rain continues for another few hours, it is advised Lagos State Government declares a state of emergency and come to the aid of Lekki residents.