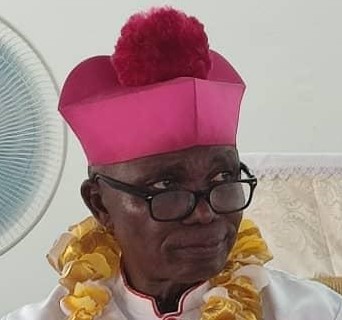 By Gbenga Adedayo
A Catholic priest, Professor Francis Ishola Ogunmodede, has advised Nigerians to vote for Peter Obi, if they are desirous to end the country's current socio-economic woes which have brought hardship to many families.  Peter Obi is one of the presidential aspirants of the People's Democratic Party (PDP).
Ogunmodede who is the Episcopal Vicar of Lekki Region of the Catholic Archdiocese of Lagos, made this remark over the weekend during his visit to the Catholic Church of the Lord's Baptism, Osopa, an outstation of Catholic Church of Divine Mercy, Lekki.
According to him, his choice of Peter Obi is informed by his track records as former Governor of Anambra State where he demonstrated high level of administrative capacity and economic prudence that transformed the once troubled deficit state into surplus, saying that Nigeria needs such a person to rescue the country at this critical time.
Besides, he added that for purposes of equity and justice, it is advised a candidate from the South Eastern part of the country be given an opportunity to produce the next president, since other geo-political zones have had their own share of the presidency.
Ogunmodede who is also a Monsignor, further advise members of the church to show more commitment to God and embrace those virtues upon which the Word of God and the Eucharist are founded as part of ways to attract God's grace and love to our lives.
Specifically, he urged members to pay attention to the family, particularly, the children so that they can be brought up under good moral values, devoid of peer pressure and distraction capable of interfering with their service to God and man.
He added that since school plays pivotal role in shaping children's behaviour, it is advised they are enrolled in good schools with high ethical standards, saying, this was the essence of Catholic schools, and advised parents to patronize them.
The Episcopal Vicar also commended the growth of the Catholic Church of the Lord's Baptism, and encourage them to expand further by acquiring some of the vacant plots of land by the church to build schools and place of learning where children can be decently trained and brought up in the ways of the Lord.
The Episcopal Vicar was accompanied on the trip by Monsignor Paschal Nwazeapu and two other priests from the Catholic Church of Divine Mercy, Lekki.