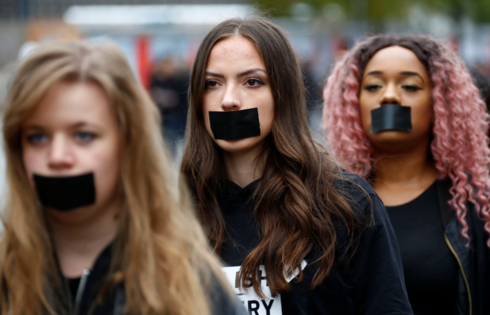 By Gbenga Adedayo
Sex trade has become a big business and widespread in Canada as sex traffickers are using the country's major highway networks to transport women and girls, taking them to small towns and cities in order to isolate them.  This is aimed at avoiding police and maximize their financial gain, according to the first research in Canada analyzing how victims are moved.
A report from the Canadian Centre to End Human Trafficking identifies some of the key routes traffickers use to transport their victims, isolating them from family, friends and familiar surroundings that could offer an eventual escape, and making them wholly dependent on their perpetrators. The constant movement also allows criminals to avoid detection by law enforcement and gives them access to more profitable markets.
The research suggests there's a trend in young women being trafficked from Quebec to Alberta, where criminals can make more money selling sex services than in other provinces, according to police officers.
And sex trafficking is so prevalent across Canada that it occurs wherever "there is a highway and access to the internet," the report says.
"I think too many people believe that this is an issue that happens in other countries or that it's an issue of kidnapping and abduction," says Julia Drydyk, the centre's executive director. "And, really, it's far more commonplace."
To compile the report, the centre reviewed academic reports and media coverage, and interviewed police officers and service providers to determine its findings. Most of the victims are women and girls, but the report notes a small number of respondents worked with male or trans-identified survivors. Interviewees said most victims and survivors they encountered were between the ages of 18 to 24, but ranged from 12 to 50.
In Alberta, shuttling victims between Calgary, Edmonton, Fort McMurray and Grande Prairie allows sex traffickers to find plenty of willing customers near oil patch work camps, and exploit the province's online sex markets, too.
"A growing trend in this corridor is the number of victims and survivors from Quebec who speak little to no English," according to the report. "Not only do language barriers serve as another method of control, but it is also believed that sex buyers see women from Quebec as exotic and novel."
Another well-worn route has perpetrators taking victims from Halifax to Moncton. Corporal David Lane, the RCMP's human-trafficking co-ordinator in Nova Scotia, says the province is well known in the criminal and policing world for exporting victims of human trafficking. (Data published by Statistics Canada in June shows that Nova Scotia and Ontario have higher rates of human trafficking than the national average, citing figures from 2009 to 2018.) Some target women and girls from Nova Scotia because they can sell them the idea of giving them a better life, he said.
"If you're from a rural fishing village in Nova Scotia, and someone offers you to go to live next to the Air Canada Centre in Toronto, to go to Calgary or Vancouver, it would probably be pretty lucrative," Cpl. Lane says, "especially when you thought they were someone you loved." That appears to be a common thread among trafficking victims, according to the report: They often know their abusers. It might even be someone they loved or trusted, such as a boyfriend, a family member or friend.
Detective-Sergeant David Correa is in charge of Toronto Police's human-trafficking enforcement unit. Cases concerning victims from Northern Ontario, Quebec and Atlantic Canada routinely land on his desk. Most of them have been recruited by young men on social media, he says.
His job is to investigate the crimes but also to support the victims, who face enormous pressure to testify in court. Det. Sgt. Correa's unit gathers evidence such as video surveillance to help support their cases. He says his unit will also help victims return to their home city or province.
Many victims are hauled across the country along the TransCanada and 401 highways, which are both notorious for sex trafficking. Ms. Drydyk says perpetrators stop at all the large urban centres along the way to make more profit. "They can use cars to travel really quickly between cities, and they can change their rental car in between those areas to avoid law enforcement detection," she says.
Two other popular thoroughfares for traffickers are Ontario's highways 11 and 17, used to move victims from Sudbury and Thunder Bay through Northern Ontario and onward to Winnipeg. Ms. Drydyk says they view the remoteness of these highways as yet another way to avoid the police.
All that moving around can certainly make it challenging to track their movements. "They're gonna stay in a given hotel, probably a maximum of three days, before they start really bringing attention to themselves," Det. Sgt. Correa says.
Police also face the challenge of getting victims to trust them. They can be reluctant to speak to police because they may have had a bad experience in the past, or their trafficker has forced them to commit fraud or recruit other girls.
How trafficking affects victims
Nova Scotia and Ontario have higher rates of human trafficking than the national average, with women and girls often lured by people close to them or over social media. Their traffickers then force them across the country. The Globe and Mail spoke with two women who shared their personal experiences being sex trafficked and a third woman who shares her daughter's story.
At the time – three decades ago – she was living in a rooming house in Dartmouth. A group of girls lived in the back of the house, and Ms. Tynes-Jass used to watch them put on makeup and go out at night. But she was busy with school and her job at McDonald's, and didn't think too much about what they were doing.
The girls started inviting her on shopping trips and to restaurants, telling her not to worry about paying because the owner of the house covered the bills. It turned out the man – who lived there with his family – was a pimp. After a few weeks of shopping trips, he told Ms. Tynes-Jass she couldn't stay unless she did what the other girls did. She remembers asking, "What's that?"
That night, she says, "they did me up and took me out, and I got turned out that night. So that's the beginning of it."
Over the course of 18 months, Ms. Tynes-Jass was trafficked by three different men and raped over and over again. She tried repeatedly to escape, but she wasn't allowed to keep any money, and her pimps monitored her every move. She felt detached from her head and her heart, numbing herself to cope with the trauma.
The first time she hatched a plan to escape, her roommate went missing, so instead of making a run for it, Ms. Tynes-Jass went searching for her. The next morning, she heard on the radio that a body had been found in a garbage can. She went to the morgue and still remembers staring into her friend's face.
That night, her pimp made her stand in the same spot her friend who was killed had worked the night before.
She was working up the courage to escape again when she was recruited by a group of girls who promised her their pimp would protect her. Instead, he put her in the backseat of a car and took her to Montreal.
Ms. Tynes-Jass's anxiety swelled as they passed swaths of dense forest, taking her farther away from home. She knew of other girls who'd been taken and never returned.
"I had no say in the decision," she says. "I had no say whatsoever."
In desperation, she jumped out of the car before they reached Montreal and ran to a payphone to call police. But her freedom was fleeting.
She fell into the grips of a third man who sent her all over the country, making her stay with his family members or people he knew, so she was always watched.
"They would just trade girls," Ms. Tynes-Jass says. "It's like you're a thing. You're nothing to them. … They try to get you pregnant so you're tied to them, so you can't leave. You're like a slave."
After hiding enough money to buy her freedom, Ms. Tynes-Jass rented an apartment in Dartmouth. She remembers lying on the floor, thinking she was free. But the pimp and his friends found her and beat her so badly she thought she was going to die.
"They were kicking me in the head and the stomach, and I was telling myself, 'You can't pass out.' They put me in a basement, and I got raped that night."
She managed to escape again, taking a bus to her hometown of Truro. But when she arrived, the pimp was waiting for her in the parking lot. She refused to get off the bus until someone came to help – armed with a baseball bat.
After she was finally free for good, Ms. Tynes-Jass became pregnant and had a son. She returned to high school at the age of 20, secured a scholarship to Dalhousie University and went on to become a lawyer. She wanted to reach for a career that was beyond her wildest dreams, and strived to take care of her son.
She got married and started practising law in Halifax. But she was constantly reminded of what had happened to her in Nova Scotia. She now lives in Toronto with her family, where she runs a practice focused on family law and residential real estate. She also operates a charity called Survivors Unleashed International, which provides education funding to victims of trafficking.
Ms. Tynes-Jass says governments, schools and parents need to acknowledge the threat of sex trafficking and talk more about how girls are coerced.
"The real issue is these little girls are looking for love, and these pimps are exploiting that for their own greed and financial gain," she says. "But they're ruining lives in the process."
-Theglobeandmail