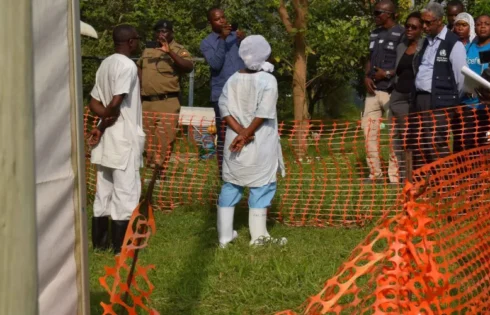 By Timothy Oyomare
About 11 persons have been confirmed dead in Uganda due to Ebola Virus Disease (EVD) infection.  The disease is fast spreading and causing severe bleeding and organ failure both in people and nonhumans, including monkeys, gorillas, and chimpanzees.
As a result, Health officials and civic leaders have suspended operations of entertainment centres and limited the number of people attending burials and weddings in Mubende District as they race to curb the spread of the Ebola Virus.
On Thursday, Health Ministry spokesperson Emmanuel Ainebyoona said the death of a child in the area has been linked to probable Ebola.
In Mubende, the district Ebola taskforce imposed restrictions on visits to public offices in measures that mirror the standard operating procedures (SOPs) to curb the spread of Covid-19.
The Mubende Resident District Commissioner, Ms Rosemary Byabashaija, who also doubles as the head of the Ebola taskforce in Mubende, said allowing gatherings to continue would be risking people's lives as the virus spreads rapidly through physical contact.
"Since Ebola is spread through body contacts and it can highly be spread in congested places, we have come to a decision to suspend entertainment places, congested places, limit number of people attending weddings and introductions," she said.
-Theeastafrican