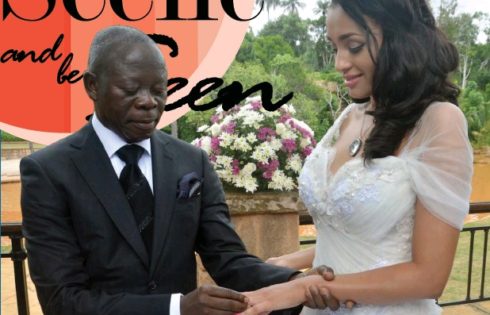 By Timothy Oyomare
Where is the amiable wife of Adams Oshiomhole?  This is the question currently dominating the lips of most Nigerians who have enquired to no avail, as to the whereabouts of Lara Fortes Oshiomhole, whose gorgeous personality overwhelmed the former Edo State Governor.
The questions are elicited by the long absence of Lara from the public space, particularly, the media which has celebrated her beauty and allure, drawing so much attention to the couple.
What could have made Lara to recede into oblivion?
The absence of the Cape Verde born Lara who was a former employee of Emirates Airlines from the public space is fuelling so much speculation on whether her four and a half years old marriage, with age differentials of over 30 years with her spouse, is still in intact.
There have also been rumours that the marriage which was consummated on the 15th of May, 2015 at Auchi, Edo State, has been dissolved, while others believe she is pregnant, and was avoiding public attention for the period of anti and post natal exercise.
The marriage of Lara to Oshiomhole which was chaired by former Head of State, Yakubu, attracted so many dignitaries, including the big wigs in the Nigerian political landscape, particularly, the All Progressives Congress (APC).
It is high time the National Chairman of the APC spoke to avoid unhealthy speculation.  To be a celebrity is not cheap.  There is a price that goes with it.  As celebrity, if you do not find the public, the public will find you.
The initial stage of the marriage enjoyed media exposure that followed with glamour and glitz.  Her fans cannot afford to be thrown into the dark as to the goings-on with the beautiful one from the Cape Verde Islands.