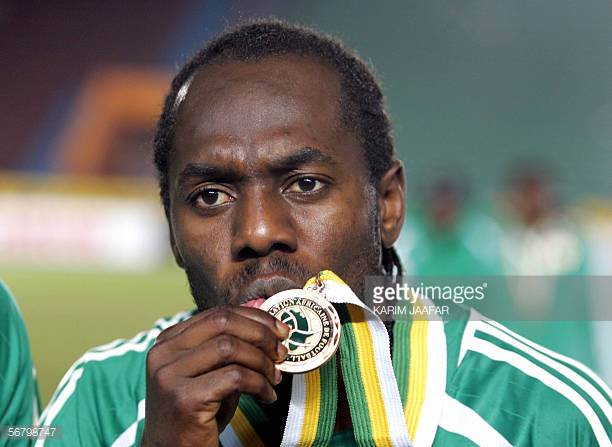 By Timothy Oyomare
The Nigerian Football Federation (NFF) under the leadership of Amaju Pinnick should intervene in the case of former ex-football international, Wilson Oruma who is currently suffering from psychopathy resulting from acute state of depression.
Wilson Oruma was duped by fraudsters who masqueraded as oil merchants, luring him to invest his fortunes in an oil business deal discovered later to be a scam.  The former footballer lost a whooping sum of about N1.5 billion in the transaction said to have been facilitated by his pastor.
Oruma which has consistently been exhibiting strange and abnormal behavior at his Victoria Garden City (VGC) residence is said to have taken to preaching the gospel on the roads within the vicinity of VGC with neighbours sometimes expressing reservations with his behavior.
Having captained the Nigeria Under 17 Eaglets team that won the 1993 FIFA U-17 World Cup and his contribution to the Olympic gold medal in the 1996 Atlanta Tournament, couple with other contributions that have brought soccer glory to Nigeria, he deserves some attention and support.
It would not cost the NFF anything to send him to a rehabilitation centre to enable him regain his sanity and come back to live a normal life again.  This will not only boost the corporate image of the Nigerian football body but will endear the public to it for showing concern to its former players.
It is imperative for soccer starts like Oruma should not be neglected in times like these, particularly because of the likely backlash from the international community who may think that Nigeria does not care for their stars.