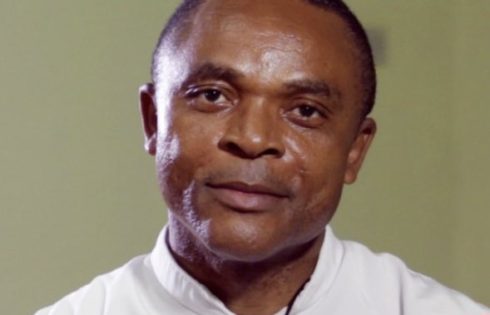 By Gbenga Adedayo
The Parish Priest of Catholic Church of Divine Mercy, Lekki 1, Lagos, Reverend Monsignor Paschal Nwaezeapu has advised Nigerians to take charge of their spiritual lives in 2020 through commitment to the word of God to enable them achieve their goals. 
He made this remark in his homily he delivered on Sunday, January 5, 2020 entitled, "2020 – My Year of Extraordinary Journey With/To Jesus". 
In the sermon, Nwaezeapu asked the audience: In 2020, do you want to be at the level of "Average" or "Exceptional" in terms of our spiritual lives?  As we strive to excel in all areas of our lives (health, finances, career, etc), do we also consider excelling in our spiritual lives?
Quoting Mark 8:36-37,What good is it to anyone to gain the whole world and lose his own self.  And what can he offer to buy his own life back?  He added that in Matt: 4:4, Jesus answered, "Man cannot live on bread alone, but on every word that God speaks".
According to the Catholic Priest, no matter where we stand, there is still a step to take towards God. He used the three wise men as models for our spiritual journey in 2020.
Why?
Because God has already called them "wise" men.  It implies that if we follow their footsteps, we will be seen as wise in the eyes of God.
 What did they do?
1. God revealed a star to them. For some of us God has been calling and revealing himself to us in various ways, but somehow we cannot discern it because we are not open to him. The three wise men discerned God in what they saw and responded swiftly. Some of us actually hear God calling us but our problem is procrastination from one year to the other. The God we serve wants us to respond Now, not later!
2. The wise men encountered obstacles. They were exposed to attacks by brigands.cf Matt:3. They were prepared to carry on at all cost.
3. The wise men made huge sacrifices. They had to step out of their comfort zones. They were kings, comfortable men. They had loved ones, which they left behind to search for Jesus. Are there sacrifices we can/should make this year to make it a year of extraordinary journey with Christ?.
4. They took their time to choose their gifts for the king. Gifts that will be acceptable to him.
5. 3 and 4 above shows their perception of Jesus. What is your own perception of Jesus? What is my perception of Jesus? Is he primary in my life? Is he the center of my life? Is he one to take the remnant? Remnant of my time, my resources, etc?
6. They persevered to the end. They were not deterred by challenges along the way.
7. They prostrated and worshipped the king.
 Key Lessons
1. Worship means total trust in him. Can we make a decision to look for Jesus in all the places where he reveals himself to us in 2020?
2. Wise men are those who seek for God despite all the activities that compete with their time and resources. Can we make God the beginning in our scheme of things?
3. We must not allow fear or the love of comfort to prevent us from embarking on this journey.
4. Temptation and distractions will come. Our focus should             be on the end result. No retreat, no surrender!
5. This year, we can seek Jesus in various programmers in church – Alfa Course, Life in the Spirit Seminar, Bible class, active participation in pious societies, etc.
6. The Wise men offered Jesus acceptable worship. This year can we strive to offer acceptable worship?  Ie worshiping him with our whole heart and mind.
7. They were generous in their offering to Jesus. Can we be generous in giving? The solution to all our problems is in giving. Our problem is in receiving; accumulating for ourselves often lead to greed, covetousness and the likes.
8. The wise men followed the star faithfully to Jesus. Let us follow Jesus to God.
9. The wise men left everything to follow Jesus. c/f Jeremiah  29:11 – For I know what plans I have for you, declares the Lord, plans of peace and not for disaster, plans to give you hop in future….
Take note of verse 13 & 14 – When you seek me, you will find me; and when you search for me with all you heart, I will let you find me declares the Lord……
Can we commit to searching for him in 2020 with all our hearts, like the three Wise men?
10.  Let us make a decision and tell God how and where we will search for him in an extraordinary way in 2020. Let us come up with individual practical plans that will guide our journey.