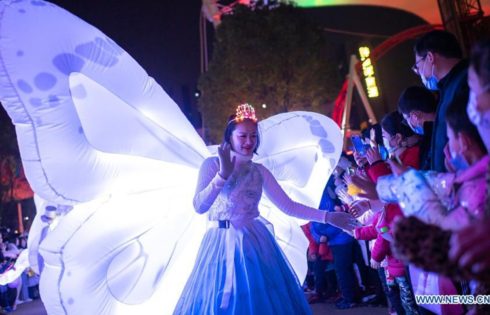 By Emeka Nze
As fear spreads over COVID-19 Delta variant, China has shut down its entertainment venues and events, including theaters, amusement parks and festivals, to prevent the spread of the Delta variant.  This is coming after more than 300 new domestic COVID-19 cases were detected in the past 10 days.
Many places in medium- and high-risk regions such as Central China's Henan Province and Southwest China's Sichuan Province have put the local entertaining industry on hold as local governments implement tight restrictions.
In Henan, where a once-in-a-century downpour led to massive floods in mid-July, local amusement parks that had planned to reopen in early August now have to keep their doors closed due to the sudden outbreak.
"We cannot reopen due to the pandemic, and we cannot give an exact time when we can reopen to customers," an employee at Zhiyou Henan, a large traditional culture-themed amusement park in Zhengzhou, Henan Province, told the Global Times on Monday.
Meanwhile Fangte, a national theme park chain, also issued a notice on Saturday that its park in Zhengzhou will remain closed.
Both parks planned to reopen on Sunday after having been closed for around 10 days due to the flooding in Zhengzhou. Yet their comeback plans were shelved as Henan reported 12 confirmed symptomatic and 20 asymptomatic cases of COVID-19 on Saturday.
A source with the Zhengzhou Municipal government told the Global Times that all local scenic spots will remain closed until the current wave is controlled.
In Beijing, where seven cases were reported on Sunday alone, some cultural venues have chosen to suspend activities even though the area has not been listed as a medium- or high-risk region by the government.
The Korean Cultural Center in Beijing announced on Monday that it is suspending all of its weekly movie screenings and Korean calligraphy classes to prevent the spread of COVID-19. Meanwhile, the Beijing Poly Grand Theatre has also announced it is postponing a stage drama that was set for Wednesday through Friday.
Meanwhile in Sichuan Province, after the local government reported nine cases whose gene sequences are similar to that of the cases in Nanjing, the start of the current outbreak, restrictions were implemented on Monday concerning public places such as theaters, KTVs, and chess rooms. People must wear face masks, undergo temperature checks and show a green health code before being allowed entry to these venues.
The Daliangshan International Theater Festival, which was scheduled to start on Monday, has also been suspended. "The festival on August 2 will be postponed. The restart time depends on the extent of the impact of this outbreak," said a notice from organizers.
-Globaltimes