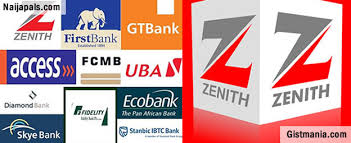 Nigeria's banking industry is opening the lending taps to avoid penalties, bowing to central bank demands to unlock credit to help revive the economy.
Banks raised their loan-to-deposit ratio to 64% in the third quarter, one percentage point shy of the minimum target imposed by the central bank, according to Bloomberg calculations using quarterly banking data released by the National Statistics Bureau. The monetary authority gave banks until the end of the year to meet the threshold or hand over half of the shortfall to the central bank without earning interest.
The statistics bureau didn't provide a breakdown of lending by individual banks.
In October, the central bank slapped 500 billion naira ($1.4 billion) in sanctions on 12 lenders including Citigroup Inc. for failing to meet an original lending target of 60% of deposits. Measures to bolster credit are at the center of President Muhammadu Buhari's plan to rekindle sluggish growth, though they've raised concerns about the future health of the banking industry, even as credit defaults dwindle.
Gross lending rose 7.3% in the third quarter from the previous three-month period, the biggest quarterly jump since early 2017, when the country was emerging from its first annual economic contraction in 25 years.
While deposits have dropped slightly since July, when the central bank unveiled the lending target, non-performing loans fell to the level lowest in four years in the third quarter, the data shows.
-Bloomberg